How Do I Switch to Another Gmail Account with All Crucial Data ?
Many of us use Gmail for their official as well as personal work. Gmail is very convenient for everyone as it can be use easily. Many users spent their day mostly using Gmail associated with work. But sometimes users look for how to switch to another Gmail account due to various reasons. There are multiple reasons behind this scenario.
Making new account doesn't mean letting to off your old emails. Because we all know that how important the data is. Here, user thinks to switch to another Gmail account but they face difficulties in this procedure. There are multiple ways of doing this. This process can be done by two ways:
Different ways to Switch from One Gmail Account to Another
By doing Manually
By opting for professional technique
Manual Technique of Switching Between Gmail Accounts
If the user is thinking about how to switch emails to another Gmail account.  User can do so by forwarding his important emails or emails user wants to transfer into another Gmail account. Here are the steps that user has to follow to do this process:
First, the user has to open his Gmail using the account from which the user wants to forward the messages.
After that, in the top right, click settings
Then, click the forwarding and POP/ IMAP tab.
In the "forwarding" section, click Add a forwarding address.
Now, enter the email address and pass of the new Gmail account in which you want to forward the messages.
Click next to proceed.
What are the Flaws of Using Manual Technique ?
There are various flaws in using this technique. Non -technical users will not be able to use the Manual technique. As it contains some technicalities as well. This process is quite lengthy and time-consuming. It doesn't guarantee 100 % success. Therefore, investing time in this process is not the best idea to switch to another Gmail account.
Switch to Another Gmail Account Using Professional Techniques 
As mentioned above Manual method is not a good idea. In that case, users can opt for Professional software. By using Gmail Backup Software users can easily switch to another Gmail account. This software will users in forwarding their emails of old Gmail account to new one.
User will be able to forward all the emails along with all the properties and attachments. The main feature about this application is it has option to transfer emails from one Gmail account to another Gmail account directly. The tool also provides 100% security and easy to use a Graphical user interface.
How to Switch to Another Gmail account – Complete Process
Follow these simple steps to start using this process of the switch to another Gmail account easily:
1 – First, users have to install and run the Gmail transfer software on your system and enter their Gmail account credentials to forward all the emails.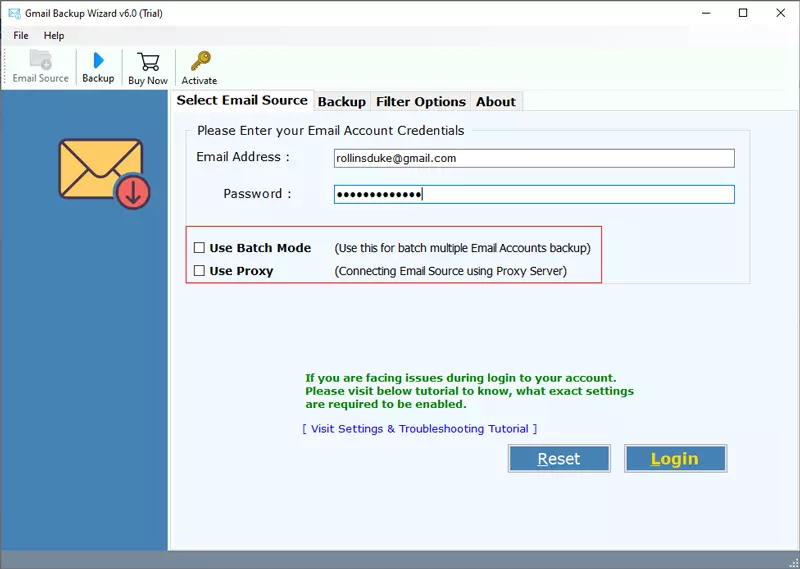 Note – If you want to use "Batch Mode" then you need to upload a CSV file having multiple Gmail account credentials. Check how to use batch mode option. https://emailbackupwizard.com/help/batchmode-csv.html

If you are facing login issue then you need to enable less secure apps in Gmail. https://emailbackupwizard.com/settings.html
2 – After that, choose the Gmail folders listed in the software panel to continue the activity.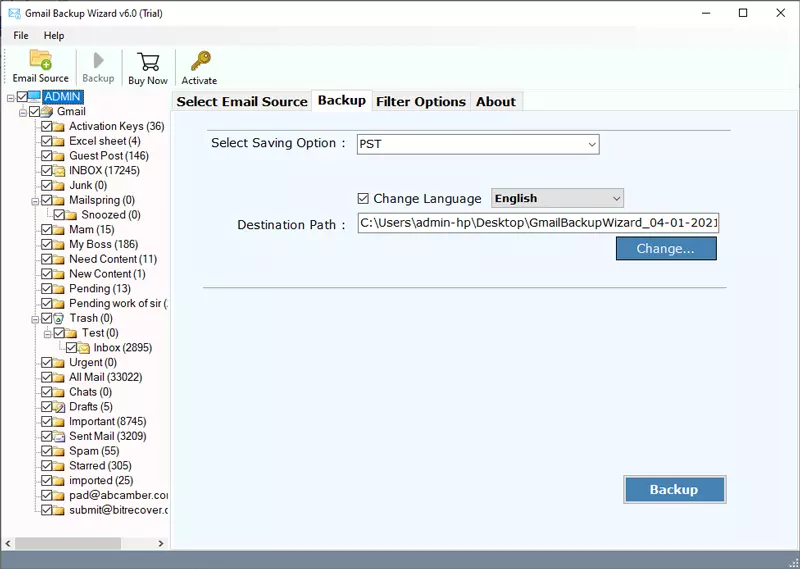 3 – Now, users have to select Gmail as saving option from the given list.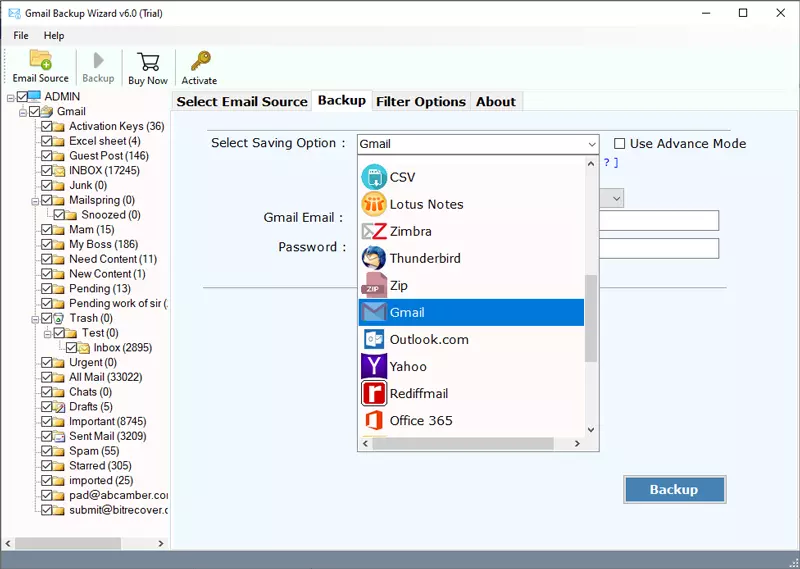 4 – Then, enter the Gmail account credentials – login ID and Password to switch to another Gmail account.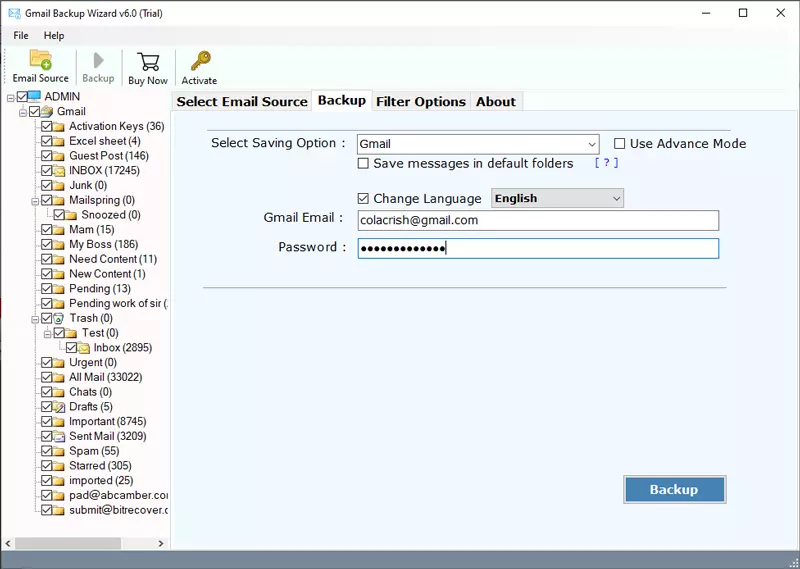 5 – Finally, user can see the live conversion process by clicking on the "Backup" process. Therefore, user can go to his new Gmail account to see the resultant files.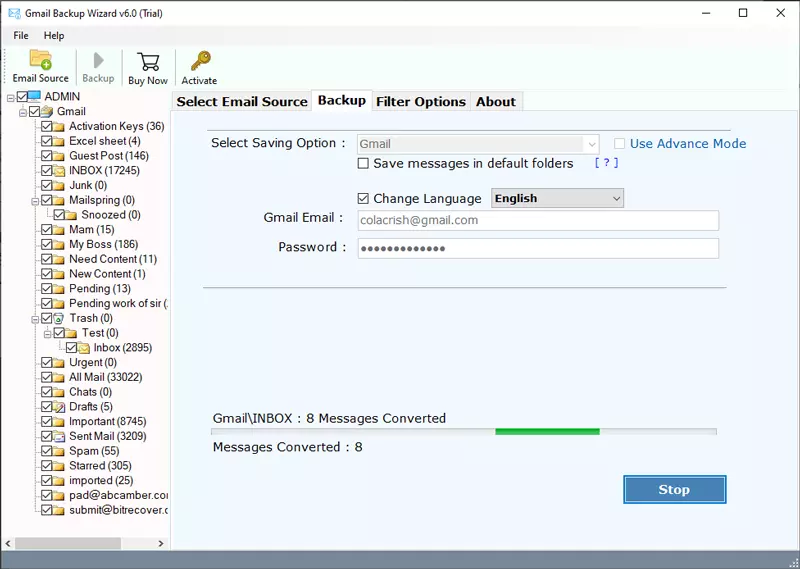 Some Fascinating Features of Gmail Transfer Tool
Save Google emails along with attachments
With the help of this Gmail transfer tool, users can transfer Gmail emails with attachments to a new Gmail account. Moreover, the software will maintain the exact integrity of their Gmail emails after the process. This tool will forward all the attachment files along with the emails.
Selective Gmail email backup solution
The tool allows users to take backup of Gmail emails with all items to multiple platforms. User can use this Gmail transfer utility to download selective emails from Personal and Professional Gmail account and it has multiple advanced filter options. The software allows its users to download Gmail emails by Date, Subject, email addresses (to, from), etc. This option is very convenient for the users, as they do not need to backup all Gmail account data.
Maintains folder hierarchy
This is one of the biggest concerns of users while performing processes such as forward emails from one Gmail account to another. This tool is the best for maintaining the hierarchical structure of a Gmail folder and it gives exact results as well.
The tool gives 100 % data integrity
This utility is capable to preserves the integrity of the complete data. It also secures the components of the email such as sender/receiver details, images, hyperlinks, subject, time, attachments, etc.
Why Switch to Another Gmail Account – Reasons Explained
Here we'll know about the multiple reasons of users due to which they want to switch from one Gmail account to another.
Limited space issue: Google account provides 15 GB of storage space to its users. There are many users who are using one Gmail account for a long time. Due to space issues, they have to switch to another Gmail account. By doing this user can keep their important emails with them.
Doesn't able to manage emails in one Gmail account: There are many users who are not able to manage their data in one Gmail account. For this user needed more than one Gmail account. So, while using multiple Gmail accounts sometimes the user wants to switch emails from one Gmail account to another.
Unable to remember the password: There are many situations when the user changes the password of his Gmail account but after that unable to remember that. There is an option in Gmail to retrieve the password but there are exceptional situations as well. In that case, the user is unable to crack the password and has to switch to another Gmail account.
Winding-up
Here we have provided you the best solution to switch to another Gmail account. We have described both manual and professional solutions. By opting manual solution, you will waste your time so it's our suggestion to go for a professional solution. If you still have any doubts then you can use the free trial version of the tool as well.