How to Export Outlook Contacts to Gmail in Just 2 Minutes
"Hello, guys! I am stuck in a complicated situation, please help me. Actually, I desire to transfer my address book from Outlook 2016 to Gmail for accessing contacts in my OnePlus phone. As per my knowledge skills, I attempted this extraction procedure through the Import and Export feature of Microsoft Outlook. However, the result failed badly. My system misbehaved like anything and I was unable to detect that what exactly went wrong. Nevertheless now I had got my system back in its normal working mode but, now I don't want to export Outlook contacts to Gmail account manually. So my question is that does there exists any surefire approach through which I can transfer address book from Outlook to Gmail. Please ensure that I don't face such a terrific situation again. Thanks in advance"
Nowadays it is pretty common that business users use both Microsoft Outlook and Gmail for their purpose. They usually google for a method with help of which they can move contacts from Outlook 2013 to Gmail. Such people feel that it is not enough to work only with the desktop-based email application. It is essential to have a mail client that renders flexibility in work.
It would not be shocking to state that Microsoft users seek for an approach to import contacts to Gmail from the PST file. Therefore, in this blog, we are going to tell you about a foolproof solution that transfer address book from Outlook 2019 to Gmail. We assure you that we will provide you a solution that will definitely result positively and will you no complaints.
Error-free Way to Export Outlook Contacts to Gmail Account
Please Note – This post is not for promoting any product. It is strictly about delivering a workable and simplified solution to move contacts from Outlook to Gmail. Our motive is only to reduce all the complications that a person faces while importing contacts to Gmail from PST file.
The solution demands for a Windows-based application named as PST Contacts Converter. It is a contact extractor solution that fetches address book information from Outlook file. The solution does not comprise of any bug within it and enables clients to work without any challenge. The method exports Outlook contacts to Gmail account without causing any harm to the address book parameters.
Attributes like first name, last name, contact number, home address, etc., will be exported simultaneously. At the time of processing, there will be no mixing of contacts' content. It is so because the program is coded in such a way that it works in a systematic and smart manner. Well, the solution demands for two major stages to perform – 'Extract CSV file from Microsoft Outlook' and 'Import extracted CSV file into Gmail'.
In general, users get stuck at the first stage. Therefore, we are providing you can efficient solution to extract CSV file from Outlook 2019, 2016, etc. It is just a 4-steps way to complete this task in an independent manner.
1 – Download, install and open BitRecover PST Contacts Wizard on your computer.
2 – Its time to add the Outlook PST file whose contacts are to be exported.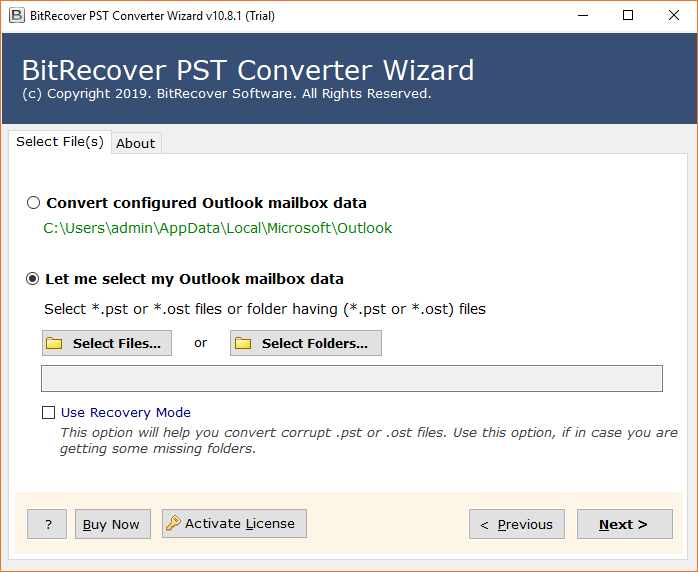 3 – Now select contact folders that you wish to upload in Gmail tenant.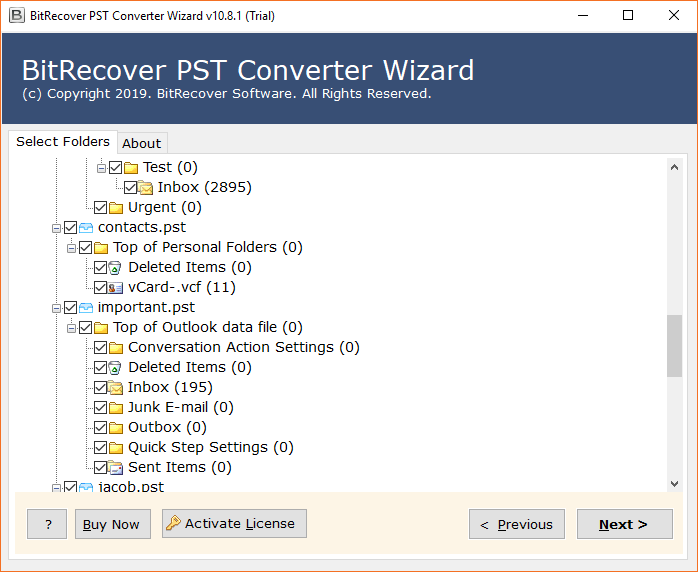 4 – Choose CSV as the destination file format and then, simply click on Convert.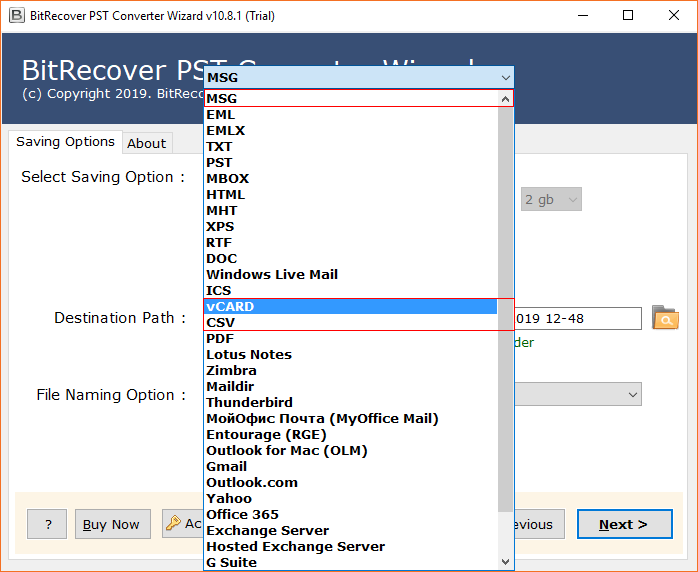 See, how simple it was to accomplish the task. Without losing a single bit, you were able to quickly complete the first phase of the procedure to export Outlook contacts to Gmail account. Once you get the CSV file, simply import it in the target Gmail account. This will end up your entire procedure without suffering from any hassle and that too in less than two minutes.
Why Not to Use Manual Way to Export PST Contacts to Gmail?
There are two common reasons due to which users dislike the manual way to transfer address book from Outlook to Gmail.
Outlook Installation Is Mandatory = Microsoft Outlook installation with proper configuration settings is needed in the manual method to import contacts to Gmail from PST file. The manual solution will not work, if a user only has an orphaned PST file but, not the Outlook installed on his or her PC.
Doesn't Export Global Address List = The manual way to export Outlook contacts to Gmail account does not export organization's GAL (Global Address List). It exports a personal contact list and that too with basic attributes.
That's All For Today
Our recommended solution to export Outlook contacts to Gmail account overcomes all the drawbacks of the manual method. It is not essential to have Outlook installed on your system. Even if you have an orphaned Outlook file, you can use PST contacts wizard to accomplish your task. Now things are becoming easier to perform then, why to waste time in thinking too much. Come lets execute this solution and transfer address book from Outlook 2019, 2016, 2013, etc., to Gmail without any stress.