How to Export Gmail Emails to Outlook 365?
Case Study: We are a small organization of 40-50 employees. Everyone in the workplace has a Gmail account for the tasks. But, now planning to change into Outlook 365 email service for better functioning and productivity. Our IT experts researched and suggested to try a professional solution to maintain data consistency. Can you please help us choosing the right method to export Gmail emails to Outlook 365? 
It's always good migrating your emails to a more robust, reliable, and advanced email platform such as like Outlook 365. In the last few years, the demand and usage of Outlook 365 have made new records. It is one of the deployed applications that help your organization work in smart ways with reduced cost and others.
Now, for all wanted to import Gmail emails to Outlook 365, there are two methods you can trust. In this guide, our discussion is all around "how can you export Gmail emails to Outlook 365"?
Find out Top 2 Methods for Importing Gmail emails to Outlook 365 Account.
We have picked the top two experts recommended methods to transfer Gmail emails to Outlook 365. Both are simple and easy to understand. Rest, you can find after knowing the procedure.
Method 1: Transfer Gmail emails to Outlook 365 Automatically
Many users have requested that they don't want to export Gmail emails to Outlook 365 using the manual method. The reasons are apparent to catch lengthy & complicated process, technical assistance, no value to data integrity, and many more.
Now, you can import Gmail emails to Outlook 365 in an automatic manner with 100% accuracy. Gmail Backup Application is a powerful application specially designed to serve your needs. It is an easy and fast tool to run Gmail emails in Outlook 365 account with full data integrity. Follow the below mentioned to use the software in the right manner:
Install and Run the tool on your machine.
Now, you will be asked to enter Gmail account credentials – email address and password.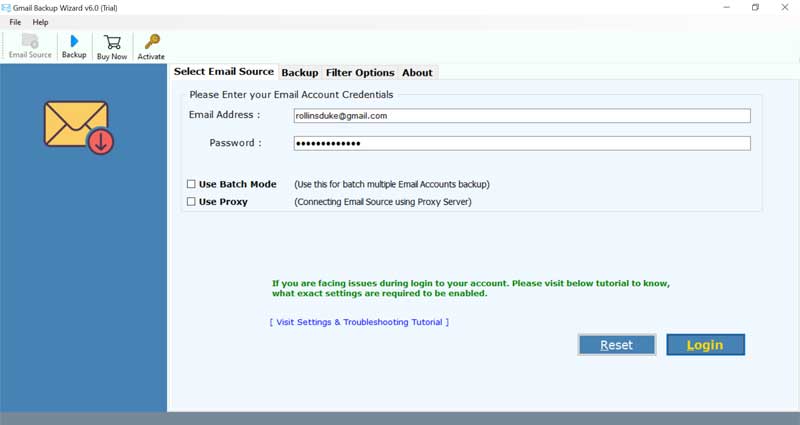 (Note:- If you want to export bulk Gmail account mailboxes, check the Use Batch Mode and make a list of email addresses and passwords in a CSV file.)
Tap on the Login button, and the software starts analyzing emails and mailboxes. Check the required ones in the software window.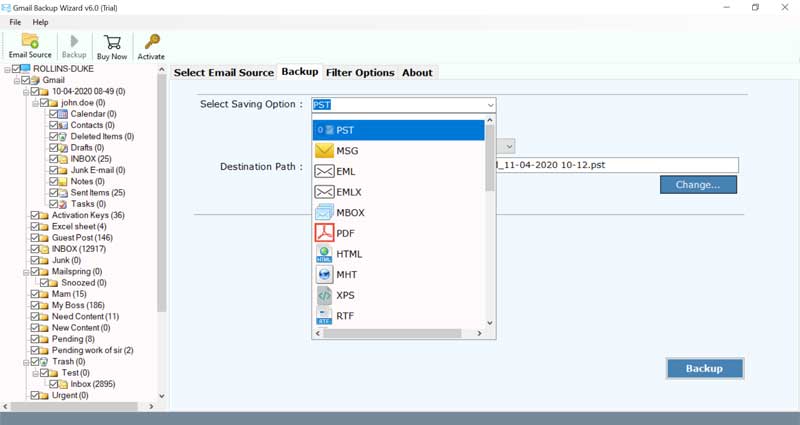 Now, select Office 365 for the transfer process.
Enter credentials of your Outlook 365 account like email address and password. If you are Outlook 365 admin, please check the I am Admin option and fill in details accordingly.
You can also check the other options like Change Language and Save messages in the default folder. Then, click the Backup button.
You can see the export Gmail emails to Outlook 365 account is already started. As a result, you will get a complete conversion message followed by a .log text report.
Now, log in to your Outlook 365 account and get Gmail emails along with attachments. That's all for the automatic process.
Method 2: Export Gmail emails to Outlook 365 Manual Guide
Outlook 365 is a web-based app for Office 365 users. You can access or continue your work until internet connectivity from anywhere. It's security and other features are entirely user-impressive. Now, let's know the method of exporting Gmail emails to Outlook 365 in a step-by-step process.
Before that, know what you want for the task:-
Gmail and Office 365 are running on your system.
Some technical assistance to maintain the flow of the process.
Method to Follow

Firstly, enable the less secure Gmail account and then create a CSV file, including Gmail account email address and password. Then, open Outlook 365, go to the Admin center and click on Exchange. It is a tricky step. It may require Technical assistance. Next, check the migration endpoint. Later, it is a lengthy and complicated task.
The Limitations of the Process
If you try to export Gmail email to Outlook 365 manually, you may end up with lots of glitches.
It is a complete technical process, and you may know specific terms like endpoint migration.
You can't transfer selective Gmail emails or mailbox in Outlook 365 account with attachments.
The whole manual process is time and energy-consuming—also, no email properties maintenance.
Read More about the Gmail Email to Outlook 365 Tool
The software is an easy way to export multiple Gmail mailboxes to Outlook 365 directly. The app supports a friendly user interface, so both technical and non-technical users will find it simple to transfer Gmail emails to Outlook 365 with proper formatting. Next, you read about the Pros and Cons of the software.
The Good
Direct Gmail email to Outlook 365 Export- The application allows users to transfer Gmail messages and their attachments to Outlook 365 quickly.
Provides multiple filters- It has several filters that can use to perform selective transfers. Using the subject and date range fields, users can import the required files/folders from the Gmail account to the Outlook 365 environment in a few seconds.
Keep Gmail folder structure– The application can maintain and preserve the structure of Gmail account folders without changing the exact data items.
Import emails with attachments to Gmail-If you are worried about attachments to Gmail emails, don't worry because the tool will automatically transfer Gmail emails with Office 365 attachments.
Supportive For Windows & Mac OS – The software runs on every Windows and Mac Operating System and easy transfer Gmail emails to Outlook 365.
The Bad
Many used the software to export Gmail emails to Outlook 365, but we haven't received any complaints or negative feedback. In case you have any questions, the technical would love to answer.
Conclusion        
We hope our insights and solution have helped you resolve the query "how to export Gmail emails to Outlook 365 account with attachments." The detailed step-by-step guide is mentioned along with accurate information about software. You can free test it on your system and transfer 25 emails from Gmail account to Outlook 365 quickly.