A Simple 5-Step Tutorial to Download Google Email Account
Google permits its users to download a duplicate of all that they have put away on the email account including Drive, Calendar, Gmail, contacts, and Hangouts. You can download Google email account to your computer if you want to make a backup before erasing your Google account and switching to another email service.
Is that a similar case with you also? Then, in the next few seconds, all your hassles will come to a stop.
This write-up is meant for all such people who want to download Google emails to computer or simply to move Gmail to Yahoo Mail, download Gmail to Windows Live Mail or other email services.
It is significant to put an eye on each document that Google stores. Moreover, if you have planned to wash your hands from your personal Google account, then the native Google Takeout option perfectly fit the bill.
This guide comprises of two basic approaches:
1. How to Download Google Email Account?
2. Download Google archive using Google Takeout method
How to Download Google Email Account Messages ?
In order to download bulk Google emails to computers, webmails, file types, a quick and effective solution is what you need. Google Gmail backup wizard allows to download all Google emails with corresponding attachments locally to the computer. Also, you choose other saving options that will directly download Google Gmail emails to other email services such as a new Gmail account.
NOT SURE HOW TO EXAMINE THE FUNCTIONALITY OF SOFTWARE?
Snap-on the green button given below
– it's a free demo edition of above-suggested software. It permits to
convert first 25 data items from Google account
to supported file format. Then, upgrade the license keys for downloading unlimited Google email account emails.
Step 1: After downloading and launching the software, the starting screen will be as shown in the screenshot.
Step 2: Now, enter your gmail account login details such as Email Address and Password in the specified fields. Press on the login button to proceed further.
Step 3: The software will load everything from your Google account into the software panel. Check on the required emails folders which you want to download.
Step 4: Here, choose any saving option according to your requirement.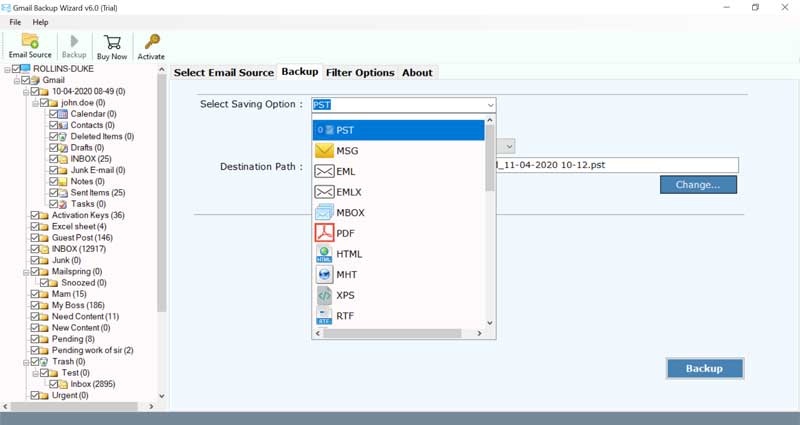 Step 5: Pick a location for saving the downloaded Google account data. You can also choose the location with browse button given in tool.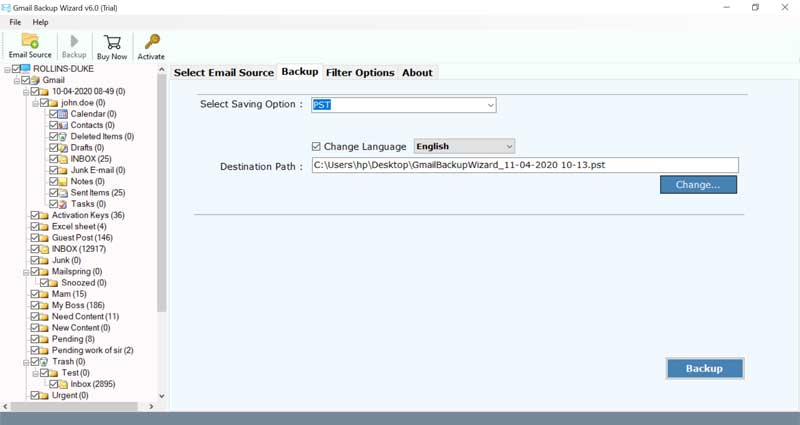 Now, start the process to download Google email account by clicking on the backup tab.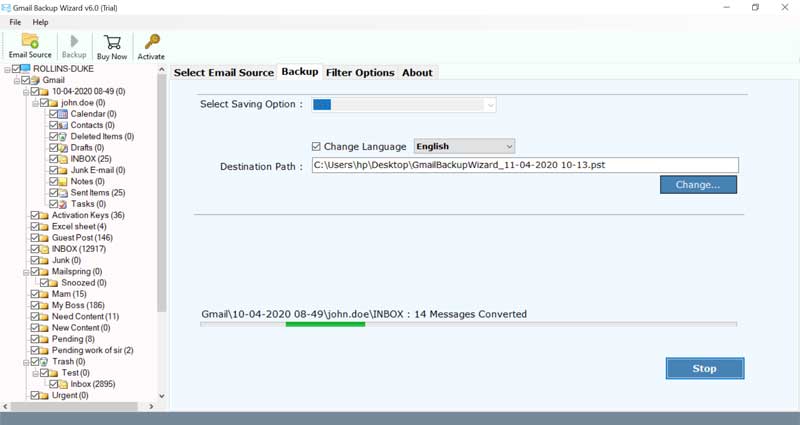 You can clearly see the downloaded Google account data on the chosen destination location.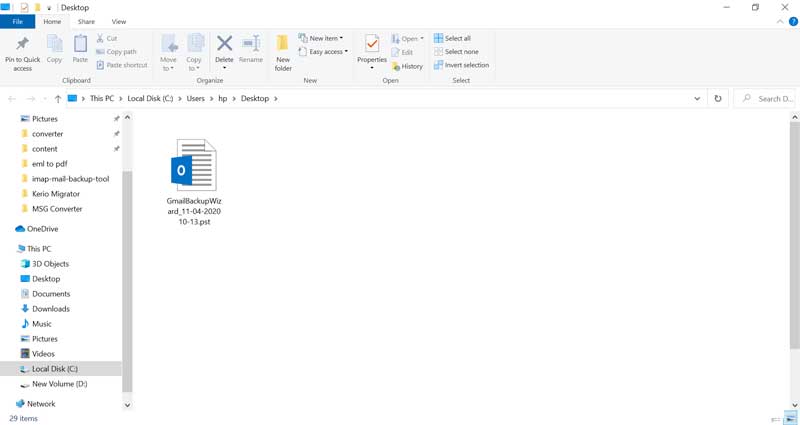 Download Google Archive using Google Takeout Method
In the archive you are about to download from Google takeout method, you can get a copy of almost everything Google saves on its servers.
Step 1: Open this URL https://tGoogle Takeout.Google.com/ and sign in to your Gmail account.
Step 2: Tap on Download your data and Deselect All. Select the Gmail emails and press on the Next button.
Step 3: Select the "Send download link via email" from the delivery method option.
Step 4: You can see file type options here, pick the .zip option.
Step 5: Select 1GB, 2GB, 4GB, 10GB, 50GB archive size as per your need. Then, tap on the Create Archive tab.
Step 6: The process to download Google email account using the  Google Takeout archive process starts.
Step 7: Once this download process ends, you will get this message "Download Archive" to download the Google emails.
Step 8: Now you have Google archives, hence just extract gmail downloaded files to desktop location.
Once this step is done, open your email folders to get the Google account data.
Hence, in this way you can download Google email account data ( MBOX files).
Convert Google Archive MBOX Emails
Use the MBOX Converter to convert Google MBOX files to various file formats, also to other Gmail accounts.
Download the tool on Windows or Mac machines.

Choose Google takeout files from your computer. This can be done by dual ways: Select files or Select folder option. Click on the Next button.
Now, all the Google Takeout files/ folders will be uploaded into the GUI. Here, you need to enable only those email folders which you wish to convert.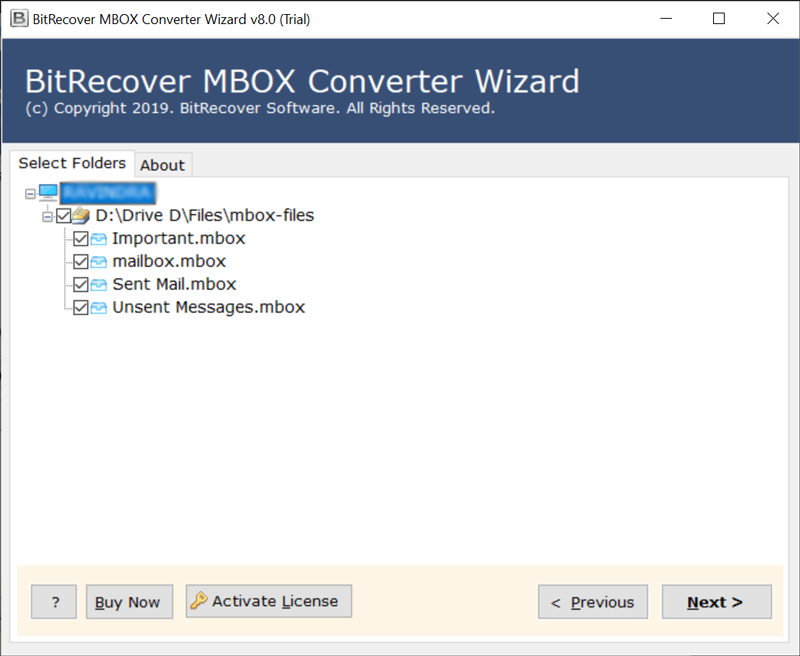 Then, from the saving options list, pick any saving option. (Here taking Gmail for illustration)
Specify all the login details of your Gmail account – email address and password. Now, press on the Convert tab to start to download Google account emails to other accounts, file formats.
Some Advanced Functions of the Software
1. How useful is this option "Use Batch Mode" in the software GUI?
Often users have multiple Google accounts, in such situations this option can prove to be a fruitful choice. It facilitates a batch email account migration mode. For this, the user needs to upload a CSV file containing the credentials of all Google account credentials.
2. How does the Proxy Mode option is helpful ?
Proxy mode permits you to connect to a local server from a remote location. Hence, in this way you can connect your Google Gmail account with your local country IP from anywhere.
Want to Know More About the Proficiency of this Utility? – Read the Features
The application offers a couple of benefits that the users can enjoy conveniently.
Download unlimited Google account emails – With the usage of this software, you can download unlimited emails from Google account. The tool does not impose any limitations during the backup process.
Perform selective backup of Google emails – Sometimes, users have few emails which are not necessary but are included in the email folders for a long time. Using this software, you can choose only some specific email folders from Gmail account and leave the undesired ones.
Windows compatible tool – Now, there is no worry as you can download this utility no matter which Windows OS you are working on. It supports Windows 10, Windows 8.1, Windows 8, Windows 7, Windows XP, Windows Vista, Windows Server 2019, Windows Server 2016, etc.
The Final Verdict
Hopefully, now you have got a proper idea about how to download Google email account. Both the techniques suggested in this write-up are useful for downloading bulk Google emails to computer.
For further queries, please contact to our technical support team.