How to Export Thunderbird Data to Outlook in Simple Steps?
At present time, a lot of computer users want to convert Thunderbird data to Outlook profiles. If you are also looking for a trustworthy technique for moving Thunderbird data to Outlook. Then after reading this blog post, your problem will be solved instantly. Many users are asking their questions on community forum sites. Here, I am mentioning Mozilla Thunderbird user's real-time queries.
Users Queries

I am using Mozilla Thunderbird email client since 2017. But now, I want to export Thunderbird data to Outlook 2019 edition. Because, recently I have started my own business and Microsoft Outlook is well-suitable email client for corporate users. Experts, please recommend an easiest way for moving Thunderbird data to Outlook profile with emails and address book.

– Levi, Swansea

Yesterday, my Mozilla Thunderbird desktop-based email client got crashed. Now I am unable to start Thunderbird. But I have Thunderbird profile data is available at default storage location. Therefore, I want to convert crashed Thunderbird data to MS Outlook with 100% accurate result. Do you know a reliable method for solving my problem in professional way?

– Andrew, Florida
Thunderbird vs Outlook Email Client Comparison
| | |
| --- | --- |
| Mozilla Thunderbird | Microsoft Outlook |
| Thunderbird is an open-source email client that is developed by Mozilla Foundation. Thunderbird is available 100% free of cost. However, you can donate to Mozilla Foundation but it is not mandatory. | Outlook is the most famous email client that is developed by Microsoft Corporation. Outlook comes with MS Office Suite program that is the need of most computers. It is a paid email client however in such cashed you can get it free of cost. |
| Thunderbird stores its data in without extension MBOX files, MSF, SBD, MOZMSGS, etc. | Outlook creates PST (Personal Storage Table) and OST (Offline Storage Table) files to store its data. |
| It gives the facility to send and receive emails, manage contacts & calendars. But it can't be connected to the Mail Server while professional users want server connectivity. | MS Outlook is full filled with advanced features i.e. Emails, Contacts, Calendar, Task, Notes, Journals, To-Do Lists, and Exchange Server connectivity. |
| It supports IMAP / POP3 / SMTP protocols for configuring email addresses. | It supports IMAP / POP3 / MSN / Hotmail profile in MS Outlook for configuring the email accounts. |
| Thunderbird is available for Windows, macOS, and Linux operating system. | Outlook is available for Windows OS, macOS, and Android. |
How to Convert Thunderbird Data to Outlook ?
Firstly, download the all-in-one Mozilla Thunderbird Converter from the official product page. After that, install the product setup on your computer. The tool is obtainable with a free demo edition that is beneficial for software evaluation. You can configure it on your Windows OS and Mac OS based computer.
1 – Launch the above-mentioned software that is capable to upload Mozilla Thunderbird profile data automatically in the software interface. Users can choose the Select Files or Select Folders option for uploading profile data manually from any location.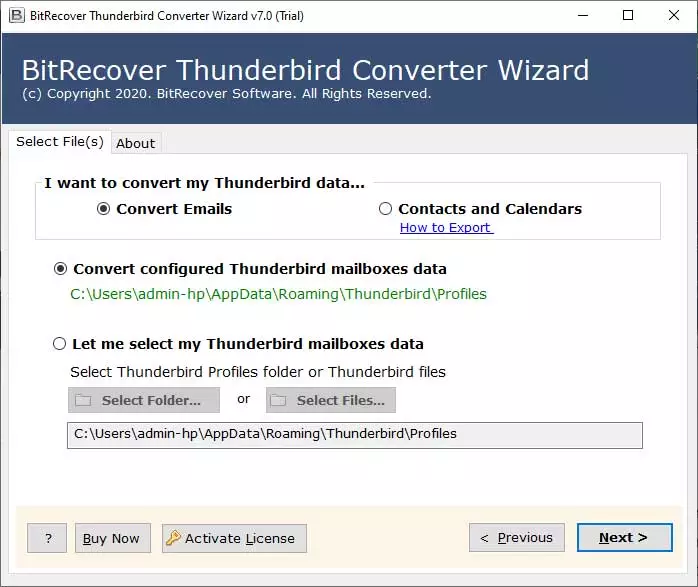 2 – After that, select all or specific Thunderbird data folders from the software panel and click on the Next button to continue.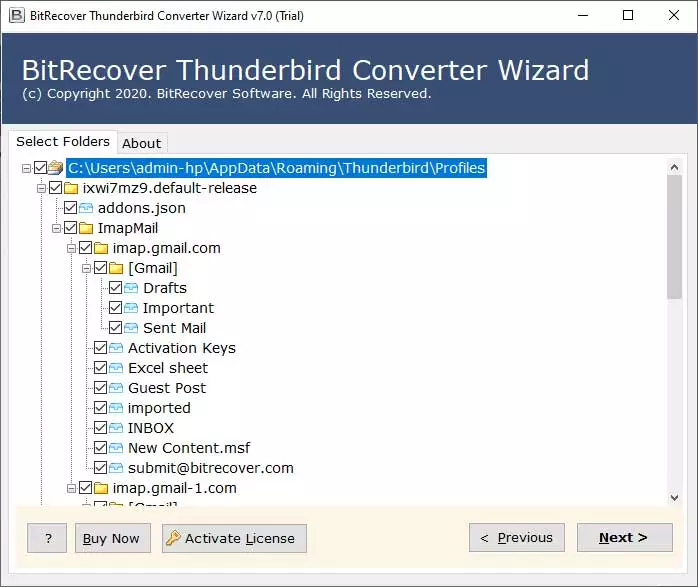 3 – Thereafter, select PST from available saving options.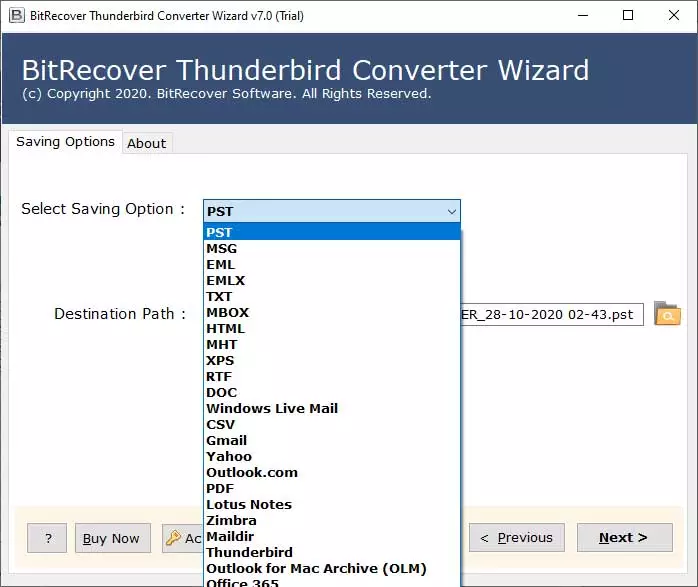 4 – After that, select a specific destination path and press the Next button to convert Thunderbird data to Outlook PST file.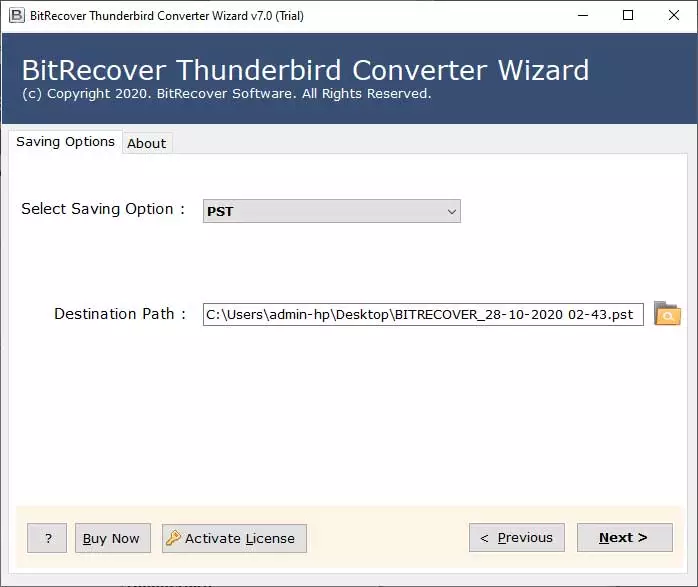 5 – Thereafter, finishing the task, it will automatically open the destination folder. Get converted PST file for your Microsoft Outlook.
6 – Start Microsoft Outlook personal information manager and import resultant PST file.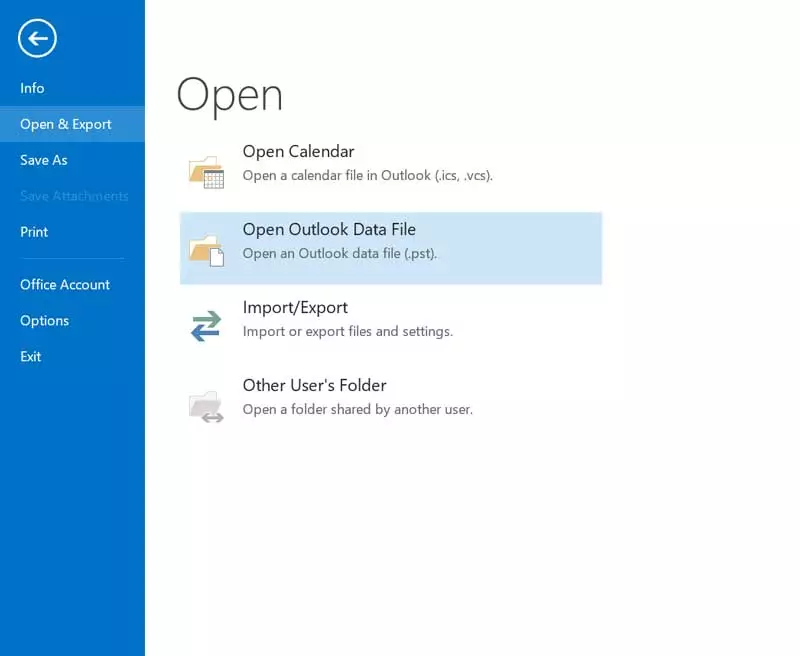 By following the above mentioned steps all professional and home based users can export Thunderbird data to Outlook 2019, 2016, 2013, 2010, 2007 editions.
Frequently Asked Questions
Que 1 – Can I export Thunderbird data to Outlook along with contacts ?
Ans – Yes, the tool permits to convert Thunderbird exported contact file into MS Outlook contact format.
Que 2 – Is Thunderbird and Outlook installation mandatory for running the mentioned software ?
Ans – No, it is an independent application that doesn't require any external application. It requires only Mozilla Thunderbird data to convert it into Outlook data.
Que 3 – Is your software authorized for moving Thunderbird data to Outlook with attachments ?
Ans – Yes, this Thunderbird to PST Converter keeps all email attachments and components during the completion of the task.
Que 4 – Where does Thunderbird store its data ?
Ans – Go to – C:\Users\<Windows user name>\AppData\Roaming\Thunderbird\Profiles\<Profile name>\Mail\Local Folders\ to see Thunderbird data in local pc.
Conclusion
I hope, after reading above mentioned simplified step-by-step process. You can convert Thunderbird data to Outlook without any trouble. The tool comes with a free trial edition that permits to export a maximum of 25 emails from each folder. First, get complete satisfaction and check the software working process before purchasing the license keys. After complete satisfaction, grab its license keys to avoid all limitations.