How to Convert Apple Mail to PDF for Saving, Printing Email Documents?
Macintosh Mail is the default desktop email service from Apple that joins Apple Inc's OS X Operating System. It stores all email databases in MBOX format. If users wish to achieve Apple Mail print to PDF then there exists both manual as well as automated methods. In this blog, we will examine both techniques along with their advantages, shortcomings, and complete processing. Learn the best approach to convert Apple Mail to PDF.
Read the following user query that will help you to understand the conversion more precisely:
My client from Sydney has shared with me some 50-60 emails in Apple Mail. I need to save Apple Mail emails to PDF format to make them read-only format. Doing Apple Mail print to PDF with the native method seems a daunting task for me. Can you suggest to me a trustworthy solution to export all mail to PDF format? Thanks in advance!!!
Just like the above query, there is an ample number of users who are looking for a solution to convert Apple Mail to PDF.
Along these lines, if you intend to convert Apple Mail messages then read the methods provided below.
How to Batch Convert Apple Mail to PDF Document ?
The whole procedure for Apple Mail save to PDF is broadly categorized into two major steps:
STEP-1: Extract MBOX File from Mac Mail
Open Apple Mail on your machine.
Now, select a required email that you wish to extract.
Click on the Mailbox tab and in the scrollbar choose "Export Mailbox…"
Now, you can pick a saving location by hitting on the Choose tab.
Lastly, go to the destination path for viewing the exported MBOX emails.
Step-2: Export Apple Mail to PDF with Automated Software
For printing Apple Mail emails as PDF in batch, we suggest you take a professional software known as BitRecover MBOX to PDF Converter. It is a technology-driven utility that has the ability to convert Apple Mail to PDF in a straightforward manner. You will not require any plug-in or external app for the software's installation.
Follow these guidelines to export Apple Mail messages to PDF.
Firstly, Download and launch the Apple mail to PDF converter on your machine.
Download for Windows OS
Download for Mac OS
Now, select one option from the "Select Files…" or "Select Folders…" option to add Apple Mail emails into the toolkit.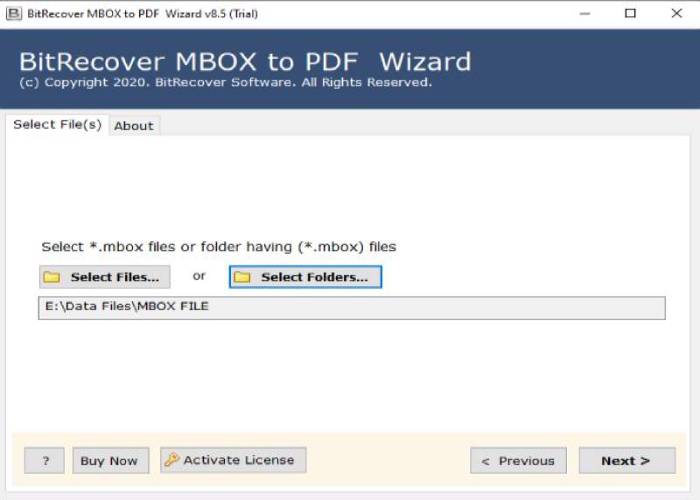 Then, enable the desired Apple Mail messages which you want to print in PDF format.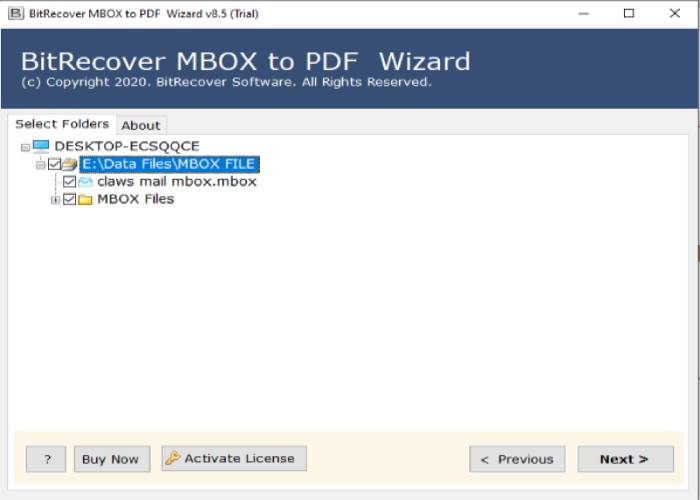 Now, hit on "Convert Attachments as PDF" and "Black & White Mode" if needed.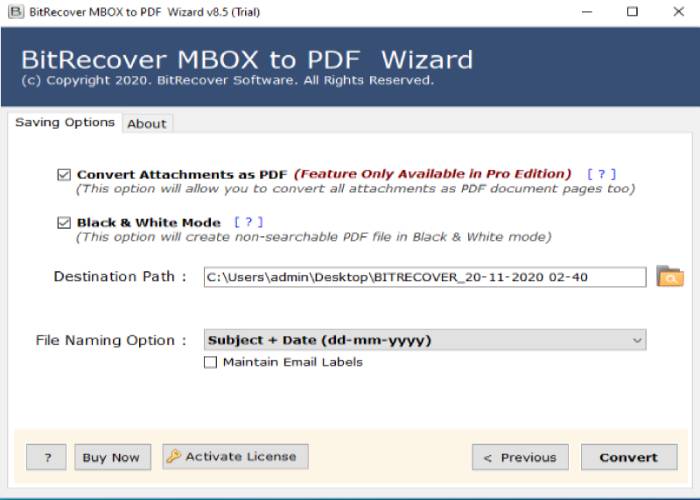 Browse a destination path as per your convenience for saving the output.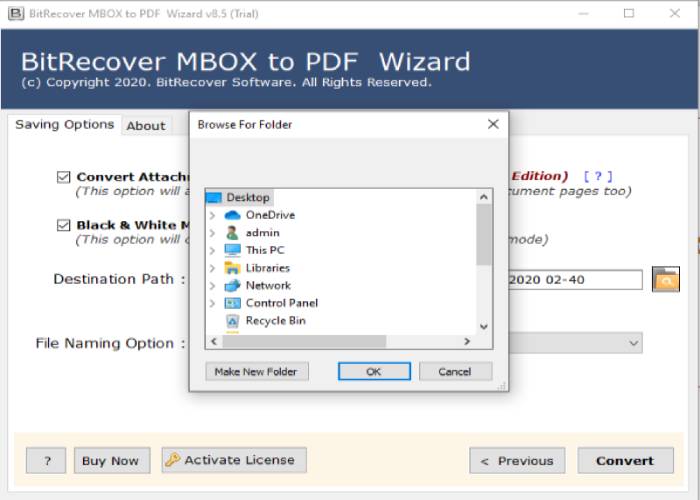 You can also choose a file naming option for arranging the Apple Mail converted to PDF documents in a systematic manner.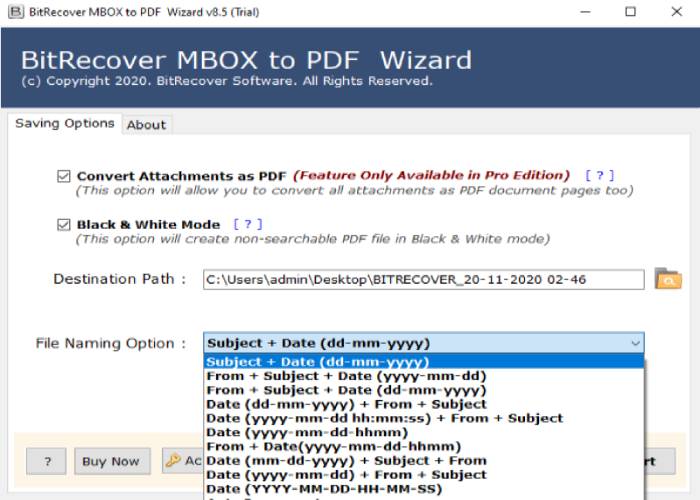 At last, snap on the Convert button. You will see the live conversion of Apple Mail to PDF in the software panel.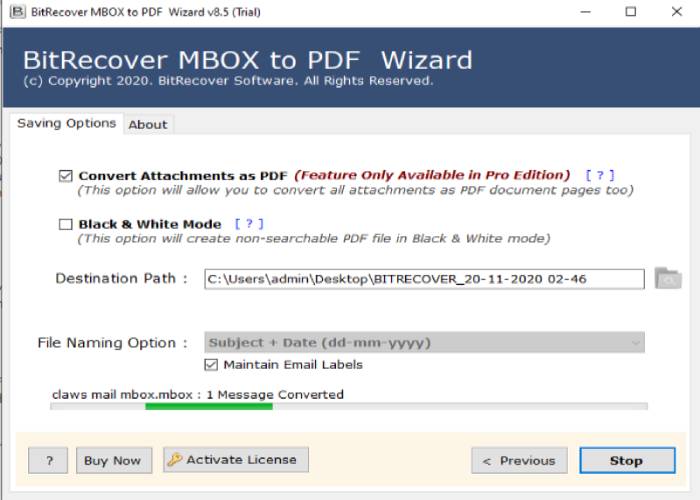 Once the conversion is done, you will receive a conversion completed message. Click on OK to end the task and open the resultant folder.
Apple Mail to PDF Converter- Advanced Features and Functionalities
You can easily convert single or multiple Apple Mail .mbox files to PDF format.
The tool permits bulk conversation Apple Mail to PDF along with embedded attachments.
There is an option to convert output PDF in Black & White Mode to reduce the size of PDF doc.
Facility to export all Apple Mail MBOX attachments as PDF document pages.
Offers more than 9 file naming options so that you can arrange the resultant PDF files efficiently.
It's a reliable solution for forensic experts, legal investigators, law people to show the evidence in front of the court.
No email application dependency for converting Apple Mail to PDF file.
Preserves the email attributes, attachments, text formatting throughout the processing.
Compatibility with all versions of Microsoft Windows Operating Systems.
Manual Solution to Print Apple Mail to PDF
Users can also export emails from Apple Mail to PDF through the Apple Mail interface. Follow these steps for conversion-
Firstly, open Apple Mail and double click on a particular email for exporting into PDF.
Now, hit on File and choose Export as PDF.
Lastly, choose a destination path and click on the Save button.
This approach is also useful but it comes with certain limitations too….
With this method, you can't batch convert Apple Mail to PDF.
It's a huge time taking and complex process for Apple Mail to print to PDF.
You need to be technically proficient in order to follow this approach for Apple mail save as PDF.
Not good for huge Apple Mail database email conversion.
No security of data and high risk of improper results.
Thus, in order to avoid the risk of long manual methods, we will recommend you to go only with the professional tool.
Reasons to Convert Apple Mail to PDF:-
PDF keeps intact the formatting of the original document.
One can apply a strong password so that only the admin can access PDF files.
Document-level security can also be applied very easily.
Helpful to preserve the layout across multiple devices.
Portable Document Format (PDF) is widely accepted as legal documents.
Rich in cross-platform support.
Final Verdict
In this blog, we have provided both manuals as well as expert-recommended automated solutions to convert Apple Mail to PDF. You can take a free trial of the Apple Mail Converter to PDF software for testing the efficiency of the tool. With it, you can convert the top 25 Apple Mail emails into PDF. For huge conversion, please buy the license keys of the product.